Thanksgiving Cocktail Recipes Because Drinking on Thanksgiving isn't a sprint, it's a marathon!
Now that November is upon us and the countdown to Thanksgiving has begun, you may be asking yourself "What are some good Thanksgiving cocktails?" As you search your mind, you cringe at the memory of your "fun" aunt's overly sweet but oh-so-powerful punch that literally packed a punch for the crowd last year.

Well, we're happy to say that this year there will be cheers instead of jeers when you serve the best Thanksgiving cocktails we share here!
COCKTAILS WHILE COOKING OR BAKING THE THANKSGIVING SPREAD
Drinking on Thanksgiving isn't a sprint, it's a marathon. If you start pounding Bloody Marys before Santa's made his way through the Macy's Thanksgiving Day Parade, you're probably not going to make it to dinner, never mind dessert!
Instead, slowly sip on a low-ABV cocktail. Vermouth, sherry, wine spritzers and beer cocktails are tasty, low in alcohol, and will keep you on-point through #daydrinking until #blackfriday shopping in the wee hours of the next morning.
HONEYCRISP APPLE SANGRIA
2 honeycrisp apples, chopped
1 orange, thinly sliced
1 (750ml) bottle of light-bodied Spanish red wine
1 3/4 cups apple cider
1/2 cup brandy
1/4 cup orange juice
2 tablespoons lemon juice
3 cinnamon sticks (plus more for garnish)
Top off with Club Soda
Rimming: cinnnamon/sugar mix
Step 1 place 3 cinnamon sticks, apples, and orange slices in a large pitcher. Add wine, apple cider, brandy, orange juice, and lemon juice. Allow to sit in the refrigerator for 6 - 24 hours. Taste; if you'd like it to be sweeter, add 1-2 Tablespoons granulated sugar, honey, or agave.
Step 2 For the a cinnamon-sugar rim, moisten the rim of your glasses with water, turn the glass upside down and dip it into a mix of cinnamon and sugar. Pour in the sangria with fruit and add a splash of club soda (more or less depending on how low-alcohol you want to go). Garnish with a cinnamon stick.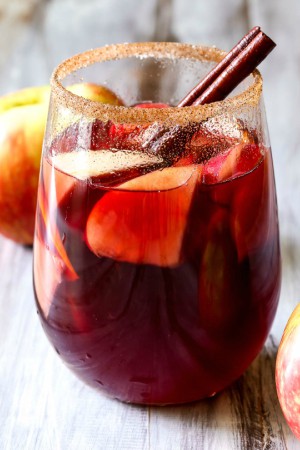 APERITIF COCKTAILS TO SERVE AS GUESTS ARRIVE BEFORE THE THANKSGIVING FEAST
An aperitif is a light alcoholic beverage such as sparkling wine or a somewhat bitter drink to get the digestive juices flowing. Aperitifs can be served solo or enjoyed with light appetizers before "the main event." For Thanksgiving, we recommend the Martini Ambrato Negroni which is a softer, more floral twist on the classic negroni.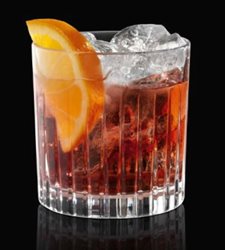 MARTINI AMBRATO NEGRONI
1 part (25ml) Martini Riserva Ambrato
1 part (25ml) Martini Riserva Bitter
1 part (25ml) Bombay Sapphire Gin
4-5 ice cubes
Garnish: Orange Wedge
Instructions Build in tumbler/Lowball glass: fill with ice cubes, pour over ingredients, stir gently and garnish with orange slice.
COCKTAILS TO ENJOY WITH YOUR THANKSGIVING MEAL
While red wine and white wine are often the "go-to" with Thanksgiving Dinner, complement the wide variety of vegetables, casseroles, and other sumptuous side dishes served with your Thanksgiving turkey and/or roast by sipping on one of these cocktails instead:
CRANBERRY MULE
1/2 oz simple syrup
1/2 oz unsweetened cranberry juice
1 1/2 oz Bully Boy Vodka or Estate Gin
2 oz chilled Fever Tree ginger beer
Garnish: orange slice
Instructions Combine simple syrup, cranberry juice, and vodka or gin. Pour over ice and top with ginger beer. Serve garnished with orange wedge.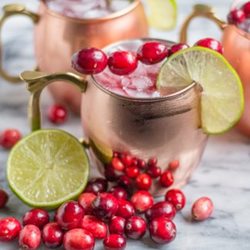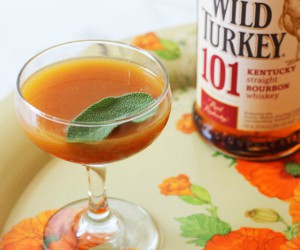 PUMPKIN SAGE BOURBON COCKTAIL
10 fresh sage leaves (reserve one for garnish)
2 ounces Wild Turkey 101 Bourbon
1 tablespoons pumpkin butter
1/4 ounce lemon juice
2 dashes Angostura bitters
Instructions Gently muddle remaining sage in a cocktail shaker. Fill the shaker with ice then add bourbon, pumpkin butter, lemon juice, and bitters. Shake until well-chilled, about 20 seconds. Strain into a chilled coupe glass and float a sage leaf on top the drink as garnish.
DRINK YOUR DESSERT - AFTER DINNER COCKTAILS
Some people simply prefer their dessert in liquid form - it goes down easy and doesn't stick to the ribs like bread pudding or holiday staples like mince meat pie and (shudder) fruit cake!
Dreaming of Salted Caramel, luscious Egg Nog, or Peppermint Bark goodness?
Pennsylvania Dutch Cream Liqueurs are so delish and so easy to serve - just shake with ice, strain & pour in a glass, top with whipped cream and enjoy! Also perfect to add to coffee or hot cocoa when you cozy up anytime this winter.

GREY GOOSE ESPRESSO MARTINI
2 parts (50ml) Grey Goose vodka
1 part (25ml) prepared Espresso
1 part (25ml) Tia Maria
1 tiny pinch of Salt
4-5 ice cubes
Instructions Combine all ingredients, shake hard and strain into a martini glass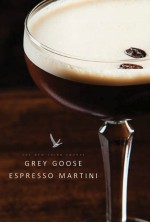 Plus, if pumpkin pie is your thing, these cocktails are sure to please!
DIGESTIFS TO THE RESCUE
Digestivi is a category also called Amaro or Amari, which translates to "bitter." These drinks range from dark herbal medicinal drinks to lighter, still-bitter drinks that are usually considered after-dinner drinks and often serve as an aid to digestion, so be sure to sip slowly.
After Turkey Dinner, enjoy a digestif cocktail as you unwind with family while watching a holiday movie marathon or planning your attack for #blackfriday and #cybermonday.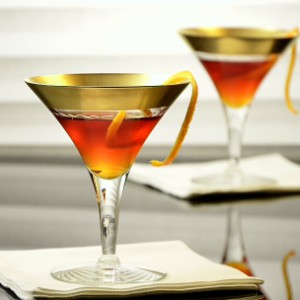 HANKY PANKY
1.5 oz Sipsmith London Dry Gin
1.5 oz Tribuno Sweet Vermouth
2 dashes Fernet Branca
Garnish: Orange twist
Instructions Add ingredients to a mixing glass with ice and stir until cold. Strain into a chilled coupe glass. Express an orange peel over the drink and drop it in.
No matter what beverages you choose to imbibe on Thanksgiving, a.k.a. the official kick-off to the holiday season, please remember to drink responsibly.