BEST PUMPKIN COCKTAIL RECIPES TO CELEBRATE THE SEASON
While pumpkin flavored everything hit the shelves mid-August, many folks weren't ready to give up summer quite yet. Now that Autumn is upon us, it's time to raise your glass to this savory yet sweet squash. We hope you discover your favorite pumpkin cocktail recipe here - cheers to Fall!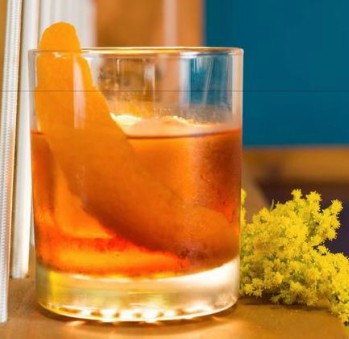 Pumpkin Old-Fashioned
1 1/2 ounces Bourbon Whiskey
1/2 ounce Mandarin Napoleon
2 tablespoons Pumpkin puree
1 ounce Whistle Pig maple syrup
Orange peel twist
Instructions Combine pumpkin puree, bourbon, syrup, Mandarin Napoleon and bitters in a cocktail shaker filled with ice. Shake well; strain through a fine mesh strainer into a chilled old-fashioned glass filled with fresh ice. Garnish with orange peel and enjoy your bourbon pumpkin cocktail!
Pumpkin Shandy
1 ounce Mandarin Napoleon
1 ounce Fresh lemon juice
1 barspoon Pumpkin butter
4-5 ounces Pumpkin beer
Garnish: Fresh grated nutmeg
Instructions Add Mandarin Napoleon, lemon juice, pumpkin butter and ice to a mixing glass. Shake and fine-strain over ice in a highball glass. Top with beer and garnish with fresh grated nutmeg.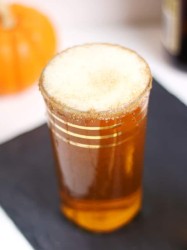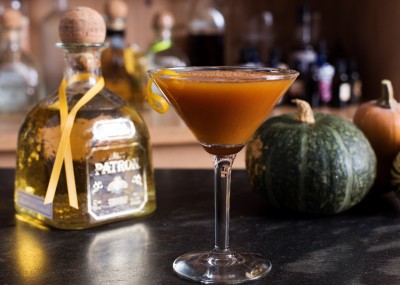 Pumpkin Spice Martini
1.5 oz Patrón® Añejo Tequila
2 oz Orange juice
1.5 oz Pumpkin purée
1 oz Lemon juice
1 oz Honey pumpkin spice syrup
Garnish: Pumpkin Pie Spice blend & orange twist
Honey Pumpkin Spice Syrup: 1 cup Water 1 cup Honey 2 tsps Pumpkin Pie Spice blend In a small pot, whisk together all of the pumpkin spice ingredients. Over high heat, bring the mixture to a boil. Once at a boil, turn off the heat and allow the syrup to completely cool.
Instructions In a cocktail shaker, add all of the ingredients for the pumpkin pie martini, except the spice blend and orange twist, and shake. Strain the cocktail into a martini glass. Dust with the pumpkin pie spice blend then garnish with the orange twist.
Pumpkin Pie Martini
2 parts RumChata® Cream Liqueur
1 part Skyy® Vanilla Bean Infusions
1 part Leroux® Ginger Brandy
Garnish: Grated cinnamon
Instructions Pour ingredients into a cocktail shaker filled with ice. Shake well. Strain into a chilled cocktail glass. Sprinkle cinnamon on top as garnish.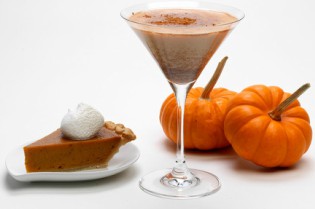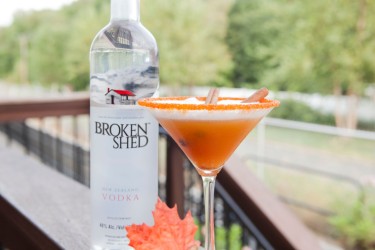 Pumpkin Cider Cocktail
2 oz Broken Shed Vodka
1.5 oz Apple cider
.5 oz Canned pumpkin pie filling
.5 oz Spiced Syrup (recipe below)
Garnish: Crushed graham crackers
Instructions Pour ingredients into a cocktail shaker filled with ice. Shake well. Strain into a chilled cocktail glass that is rimmed with the crushed graham crackers.
Spiced syrup Ingredients 4 cinnamon sticks (3-inch size) 8 small slices of fresh ginger (skin on is fine) 1/2 of a vanilla bean (split open) 20-25 whole cloves (stems on) 6 whole star anise pods 2 cups of sugar 2 3/4 cups of water
Spiced Syrup Instructions Add all ingredients in a saucepan. Heat until mixture simmers and let sit for 30 minutes, stir occasionally. Remove heat and let steep for two-three hours. Strain and pour mixture into a glass bottle for storage and refrigerate.
IF YOU LOVED THE BOURBON PUMPKIN COCKTAIL AND OUR OTHER EASY PUMPKIN COCKTAILS, BE SURE TO CHECK OUT OUR THANKSGIVING COCKTAIL RECIPES TOO!