HALLOWEEN COCKTAILS
A Halloween party is the perfect excuse to channel your creepy creativity into the cocktails and drinks you serve your guests. We're thrilled to the bone (groan) to share a few of our favorite Halloween cocktail recipes with you. These tasty libations will both impress and scare your guests.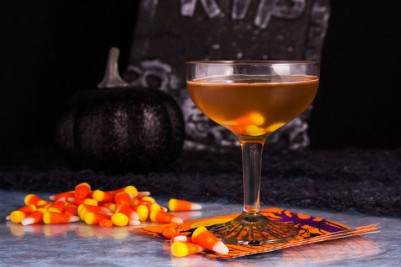 CANDY CORN COCKTAIL
1 1/2 ounces Bombay Sapphire Gin: kettle corn infused
1/2 ounce Moscato wine
3/4 ounce Citrus peel grenadine syrup
Garnish: 3 candy corns
Step 1 For every 750ml bottle of Bombay Sapphire, add in 1 cup kettle corn. Allow it to infuse in an airtight container for approximately 24 hours. Fine strain kettle corn and re-bottle. Store in fridge.
Step 2 For every 1 cup of pomegranate juice, dissolve 1 cup granulated sugar on the stove top. Once dissolved, add in the skins of 1 orange and 1 lemon and simmer for 10 mins. Remove skins and chill syrup.
Step 3 In a cocktail shaker, combine all of the ingredients with ice. Shake very well. Strain into a chilled cocktail glass. Garnish with candy corns.
BAD APPLE
1 1/2 oz Aviation Gin
1 1/2 oz Apple Cider
1/2 oz Simple Syrup
1/2 oz Lemon Juice
Garnish: Caramel Sauce Sea Salt Apple Slice
Instructions Combine ingredients in a cocktail shaker and shake with ice to chill. Roll the glass lip in caramel sauce then sea salt. Strain into the prepared glass and garnish with an apple slice.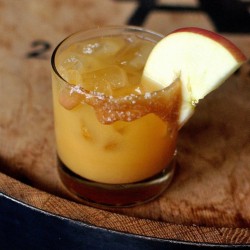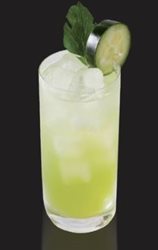 HAUNTED GARDEN
1.5 oz Ghost Tequila
Muddled Cucumber and Basil
1 oz Lemon Juice
1/2 oz Yellow Chartreuse
1 oz Agave
Instructions Shake and pour over ice. Top with soda water. Garnish with cucumber wheel and basil leaf.
DAY OF THE DEAD MARGARITA
1 1/2 oz El Jimador® Tequila
1 oz Blood Orange Liqueur
2 oz Limeade Juice
Instructions Mix all ingredients and pour into a rocks glass with ice. Garnish with a lime and blood orange wheel.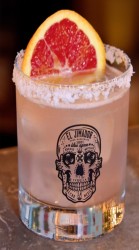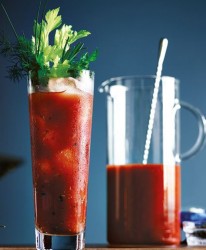 BLOODY MARY (DO YOU DARE SAY IT 3X IN A MIRROR?)
2 parts GREY GOOSE® Le Citron Flavored Vodka
4 parts Bloody Mary mix
2 dashes Hot sauce
Garnish: Lime wedge, Celery salt, Celery stalk garnish
Instructions Rub the juicy side of a lime on the outer edge of a tall glass then roll the glass lip in the celery salt. Add ice and GREY GOOSE Le Citron to the prepared glass. Top with Bloody Mary mix. Garnish with a celery stalk.
BLOOD ORANGE MARGARITA
1 1/2 oz Cazadores® Blanco Tequila
3/4 oz Agave nectar
3/4 oz Fresh lime juice
2 oz Blood Orange juice
Instructions Combine all ingredients with ice, shake and serve over the rocks. Garnish with slice of blood orange. Salted rim optional.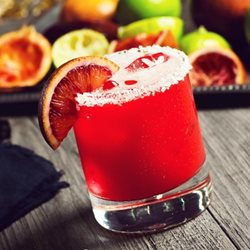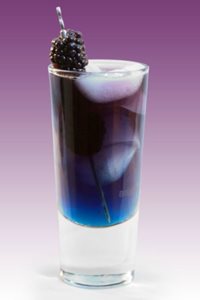 THE RAVEN
1 ounce Vodka
1 ounce Rum
1 ounce Blue Curacao
1/2 ounce Chambord
Instructions Pour the vodka, rum, and blue curacao into a cocktail shaker filled with ice. Strain into a highball glass filled with fresh ice. Slowly pour the Chambord over the back of a bar spoon so it floats on top.
BACARDI® ZOMBIE
2 parts BACARDÍ Superior Rum
1 1/3 parts BACARDÍ Gold Rum
1 part Triple sec
2 parts Sweet & Sour mix
2 parts Orange juice
1 part Grenadine
Instructions Shake ingredients with ice and pour into a tall glass. Garnish with fresh fruit.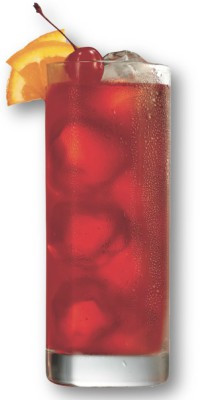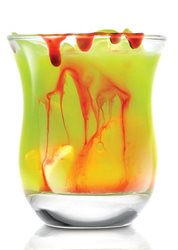 VAMPIRE'S KISS
1 1/2 ounces Midori Melon Liqueur
1 ounce Skyy® Infusions Blood Orange Vodka
2 ounces Pineapple juice
1/2 ounce Cream
Garnish: Grenadine
Instructions Pour the ingredients except for the grenadine into a cocktail shaker filled with ice. Shake well. Strain into an old-fashioned glass filled with fresh ice. Drizzle the grenadine on top to create a bleeding effect.
PUMPKIN FAN? WE'VE GOT THOSE DRINK RECIPES TOO!