THE WATER OF LIFE - SCOTCH
In Scotland, whisky was originally called Uisge Beath. Uisge Beath is the Scottish Gaelic translation of the Latin term for distilled alcohol: "acqua vitae", or "water of life". Over time, the phrase uisge beath was shortened to simply "uisge" (sounds like "oosh-gae"). Eventually, uisge evolved into the word "whisky" we use today.
SCOTCH WHISKY SINGLE MALT PROCESS
Malt Whisky is made using malted barley, water and yeast. The liquid is distilled in copper pots, called stills, and is matured in barrels for a minimum of three years. "Single Malt" simply means that the whisky was produced at one distillery, as opposed to being blended from multiple locations.

The different characteristics of single malt Scotches come from variances within the distilling and finishing processes. The smokiness of a whisky, known as peatiness, is determined by how much of the pungent smoke from peat (a mossy accumulation of compressed decaying plant material) is allowed to be absorbed by the damp malted barley grain during drying. This factor, combined with the water that is accessible at the distillery location, the types of casks used for maturing, the length of aging, and filtration methods (if used) all contribute to creating diverse Scotch whiskies.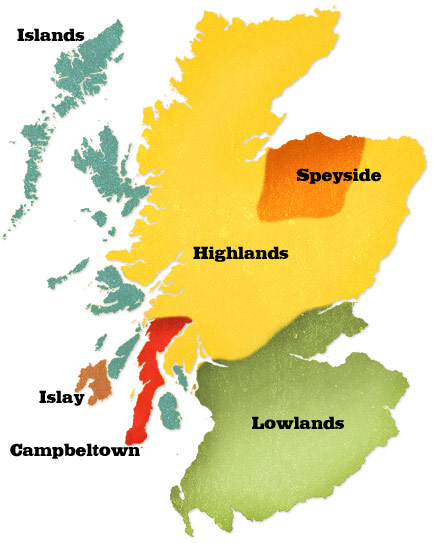 Scotland is divided into whisky-producing regions which are defined by the Scotch Whisky Association: The Highlands, The Lowlands, The Isle of Islay, Campbeltown and Speyside. Listed below is a selection of Single Malts by region.

Highlands

The Highland of Scotland is by far the largest of the Scottish whisky regions. It essentially covers most of the Scottish mainland, with the exception of the Lowlands.

ARDMORE

The Ardmore® Legacy celebrates the distillery's unique location on the fringes of the Highlands, offering a lightly peated liquid that is sweet and uplifting. The Ardmore distillery sits at the highest point of the Northern railway line, 600 feet above sea level. Close to the small village of Kennethmont, the proximity to the railway line allowed founder Adam Teacher to transport materials from Glasgow to this remote corner of Aberdeenshire, helping the distillery flourish. Almost unchanged from the moment he made his dream a reality, the water is still drawn from the naturally rising springs that sit on the 1,500-foot-tall Knockandy Hill.

THE ARDMORE: The gentle flavor fully captures the essence of this spirit's stunning Highland home.
Tasting Notes: Heather honey, vanilla spice, cinnamon, toffee

ABERFELDY

Aberfeldy draws its water from the Pitilie Burn. Pure and fresh, its waters are famed for containing deposits of sedimentary gold. The distillery uses the water to create a light, pure single malt with hints of honey. Aberfeldy is one of the "Last Great Malts" released by John Dewar & Sons Ltd.

Aberfeldy 12-Year-Old: Known as the "Golden Dram," this whisky admired for its honey notes displays a classic Central Highland style rarely tasted in single malts today.
Tasting Notes: Fruit, honey, smooth

The Deveron

There is no Deveron distillery. The MacDuff distillery creates The Deveron, named for the river it sits on. This distillery crafts a rare coastal North Eastern Highland whisky in the traditional way using five small copper pot stills and gentle horizontal condensers. The Deveron is one of the "Last Great Malts" released by John Dewar & Sons Ltd.

The Deveron 12-Year-Old: As it is made where the River Deveron meets the sea, The Deveron offers a "calm from the storm". It is the perfect fireside malt. Soft fruity notes combine with an easy drinking style to make THE DEVERON a favorite with the work force of the distillery.
Tasting Notes: Green apples, toffee, maple

ROYAL BRACKLA

Known as "The King's Own Whisky", the Royal Brackla distillery was established in 1812 and was the first Scotch whisky ever granted a Royal Warrant by King William IV. Royal Brackla is one of the "Last Great Malts" released by John Dewar & Sons Ltd.

Royal Brackla 12-Year-Old: As refined as it is rare (a previous limited edition release of a 35-year-old was value at US$15,000 a bottle), The Royal Brackla is a bold and noble spirit. One of the first finely crafted single malts, it is peerless in taste and quality – a secret "savored by the privileged few". Heavily sherried, rich, fruity and full, this is the single malt that defined luxury single malts.
Tasting Notes: pears, spicy, sherry

LOCH LOMOND

The uniqueness of Loch Lomond's pot malt stills rest in the cylindrical necks of the spirit stills. Traditionally the necks of malt stills are open. The Loch Lomond stills include special distillation trays in the necks, allowing for greater contact with the cooling alcohol vapor. This makes the process more efficient, and allows for different flavor notes to be captured and emphasized.

Loch Lomond Original Single Malt Scotch Whisky: Based on Inchmurrin malt from unique pot stills to show case the distinctive Loch Lomond character. Matured predominately in first fill bourbon barrels. Selection of ages from 5-year-old to capture the light fruity notes at their strongest to 12-18-year-old adding depth and complexity. Characteristic of delicate sweetness and fruitiness of the Highland style. Chill filtered, bottled at 40%.
Tasting Notes: Malty, creamy wheat cereals, peach and pear, vanilla
Loch Lomond Island Collection- Inchmurrin 12-Year-Old Single Malt Scotch Whisky: It is somewhat fitting that the 'grassy isle' lends its name to this 12-year-old single malt with grassy notes and floral hints of pear drops, crème caramel, soft fruits, vanilla and fudge. Aged in three hand selected types of cask – bourbon, refill and re- charred – these whiskies are then married together. Non-chill filtered to allow the whisky's natural characteristics to shine through, this 12-year is unique as the island itself.
Tasting Notes Nose – Fruity, fudge, vanilla, peppery

Loch Lomond 12-Year-Old Single Malt Scotch Whisky: This Single Malt uses a combination of whisky from unique Loch Lomond pot stills and swan neck pot stills to give a distinguished character only found in Loch Lomond Single Malt. This 12-year-old single malt has a deep, fruity character of peach and pear layered with a vanilla sweetness and the characteristic hints of peat and smoke found in Loch Lomond whiskies. Aged in three types of cask – bourbon, refill and re-charred – these whiskies are then brought together. This 12-year-old is non-chill filtered, to keep things as nature intended.
Tasting Notes: Orchard fruits, lemon and vanilla meringue, light biscuit sweetness
Loch Lomond 18-Year-old Single Malt Scotch Whisky: This Single Malt is distilled in unique Loch Lomond stills. This 18-year-old has been maturing in oak casks. Time and nature have been allowed to bring out the sweeter character of the wood with mellow notes of peat and smoke delivering a well-balanced finish. Loch Lomond 18-year-old is non-chill filtered.
Tasting Notes: Full bodied, toasted oak, green fruits, dried tea and tobacco leaf
Learn More About Lock Lomond and it's expressions

Lowlands
Lowland whiskies are characteristically lighter and fresher. Traditionally this could be explained by the triple distillation that removes most of the rough edges from the spirit – a process used by Auchentoshan. They are also described as flower- or heather-ish, and a bit malty or grassy in taste. They are said to make for excellent beginner whiskies.

AUCHENTOSHAN

"City-inspired since 1823". Born in Glasgow as a beer, then triple distilled Irish style to become a single malt scotch, Auchentoshan is known as a light, gentle spirit, originating from the Lowlands which is also known for producing generally light, gentle spirits.

AUCHENTOSHAN THREE WOOD: The award-winning Auchentoshan Triple Wood has been matured in three different cask types: from American Bourbon to Spanish Oloroso Sherry - and finally Pedro Ximenez Sherry casks. This is a rich, complex whisky with toffee and sherry flavors.
Tasting Notes: Sherried fruit, toffee, dark chocolate

AUCHENTOSHAN AMERICAN OAK: Triple distilled and matured solely in American bourbon casks. The result: A Lowland Single Malt Whisky with the sweet aromas of vanilla and coconut - along with the signature smooth, delicate, Auchentoshan taste. Like all Auchentoshan, American Oak is a really versatile Single Malt. It is happy to stand on its own neat or over ice but also shakes up some classic cocktails that you might not think work with Single Malt whisky.
Tasting Notes Nose: Citrus fruits, toffee, milk chocolate, oak spice
The Isle of Islay
Islay produces excellent single malt whiskies at picturesque white washed distilleries. It is believed that the introduction of whisky in Scotland started on Islay, which was used as a stepping stone for arrival to the country from Ireland. Irish monks introduced the art of whisky distillation to Islay in the 14th century. The Isle was ideal for distilling whisky, as it had unlimited supplies of peat and rivers filled with pure water.

BOWMORE
The first official distillery on the Isle of Islay was Bowmore, which received its license in 1779. Located on the north of the island, Bowmore whiskys are usually less peaty.

BOWMORE 12-YEAR-OLD: Complex yet perfectly balanced, Bowmore 12-Year-Old reflects the raw essence of Bowmore - thrashing waves, windswept landscapes and generations of tradition. Bowmore 12-Year-Old has received much critical acclaim; the late, great whisky writer Michael Jackson proclaimed it "remarkably long and complex". Bowmore likes to think of it as vanilla ice cream at a beach bonfire.
Tasting Notes: Lemon, heather honey, gentle peat smoke
BOWMORE 15-YEAR-OLD 'DARKEST': Rich raisins and gentle smoke lead the way to a delicious chocolaty center. Matured in an inspired combination of both bourbon and sherry casks, it's the final three years spent in Oloroso sherry casks that gives Bowmore 15-Year-Old 'Darkest', one of the most beautifully balanced Bowmore's, the rich, deep color reflected in its name, and its warming finish.
Tasting Notes: Dark chocolate, sun-dried fruits, cedar wood, toffee
LAPHROIG

Laphroaig is a southern distillery on the Isle of Islay. It is known for producing very strong peaty flavored whiskies and considers themselves the creator of the most distinctive single malt in the world.

LAPHROAIG TRIPLE WOOD: This expression has enjoyed a triple maturation in 3 types of cask. The first maturation is in American oak, ex-Bourbon Barrels. A selection of different aged spirit is then transferred into small 19th Century style Quarter Casks for a second maturation. The final maturation is in specially selected, large European oak, Oloroso Sherry Casks.
Tasting Notes Color: Raisins, apricots, spices, caramel
LAPHROAIG LORE: Laphroaig's richest single malt expression to-date, arrived stateside in 2016. On the Scottish Isle of Islay, Lore is bottled history. Each distillery manager passes on the Laphroaig traditions and their personal knowledge to the next, ensuring that the unique skills and process of this historic distillery can be found in every bottle. Laphroaig Lore is a complex marriage of both classical Laphroaig styles and the many ages of Laphroaig. The result is stunningly complex.
Tasting Notes: Seaside minerals, peaty, spicy chili, cream
LAPHROAIG QUARTER CASK: Laphroaig Quarter Cask offers an irresistible doubling of flavor, as Laphroaig breathed new life into a once-defunct tradition: the use of the smaller cask size, which ensures increased contact with the oak, creating a soft and velvety edge to complement Laphroaig's distinctive peatiness. Still-maturing whisky from standard ex-bourbon barrels is transferred to quarter casks and left to rest in the warehouse.
Tasting Notes: Toffee, caramel, dryness
Campbeltown

Campbeltown sits on the Mull of Kintyre peninsula on the western coast, 'mist rolling in from the sea'. It is the proximity to the coast that gives the whisky its salty tang. Campbeltown single malts are often superb aperitifs. There was a time when Campbeltown was self-titled "the whisky capital of the world", and was one of the largest producing region of all of Scotland's whisky. Today there are only three.


GLEN SCOTIA
Glen Scotia is one of the three remaining distilleries in Campeltown. It maintains much of its original design, including the fermenters the stillroom and the dunnage warehouse dating from the 1830s.

Glen Scotia Double Cask: Double Cask is matured in Glen Scotia's finest oak barrels then finished in a combination of first fill bourbon barrels followed by time in Pedro Ximenez sherry casks to produce this outstanding malt whisky that provides the perfect balance of rich spicy fruits, overlaid with the characteristic sea spray and vanilla oak finish for which the house of Glen Scotia is famous. 5 years old. 5% peated. Bottled at 46%. Non-chill filtered.
Tasting Notes: Crème caramel, wood sugar, toffee and fudge, apple and peach
Speyside
Playing host to over half the distilleries in Scotland, Speyside has the greatest concentration of malt whisky producers compared to every other whisky producing region, including the Highlands, the Lowlands and the island of Islay. Speyside whiskies tend to be light, sweet, mild, fruity and/or flowerish, and complex.


AULTMORE

A site well known for illicit distillation, the location of the distillery's water source on the Foggie Moss is vital because of the damp atmospheric conditions. This water, filtered through gorse and heather, is the key to the fine taste, along with the long slow maturation in oak casks. Aultmore is one of the "Last Great Malts" released by John Dewar & Sons Ltd.

Aultmore 12-Year-Old: The smoothest example on Speyside, this classic, fruity style has been distilled along the 9-mile Buckie Road since 1897 and yet only tasted by a few.
Tasting Notes: Spicy, floral, peaty

Craigellachie

"Scotch with a Touch of Brimstone" - Overlooking the river Spey sits a distillery called Craigellachie. This distillery uses worm tubs, long snaking tubes, to cool the liquid and bring out a strong, meaty flavor. The result is a single malt that's anything but smooth. Craigellachie is one of the "Last Great Malts" released by John Dewar & Sons Ltd.

Craigellachie 13-Year-Old: A challenging Speyside whisky, Craigellachie was described as "old-fashioned" even in 1891 as it makes no concessions to modern-day trends. Craigellachie has a strong, Sulphur flavor that is brought out by the cooling process of the worm tubs.
Tasting Notes: stubborn, Sulphur, meaty

BenRiach

BenRiach is known for its bold approach to whisky making; being the first to distil Speyside whiskies from both peated and unpeated malted barley. BenRiach enjoys the oldest collection of rare, peated vintages in Speyside and offers a uniquely balanced range of peated and unpeated malts. BenRiach is one of just two remaining Speyside distilleries to seasonally produce whisky using malted barley from its own traditional floor maltings.

BenRiach 10-Year-Old: (Classic / Flagship Range) Bottled at 43% vol, the BenRiach 10 Years Old is Classic Speyside in character. The cask formula focuses on ex-bourbon and ex-sherry casks. This fresh, lively, fruit-laden single malt captures warm oak spices, green apple, dried apricots, peach and banana with subtle touches of aniseed, lemon zest and barely.
Tasting Notes: green orchard fruits, creamy vanilla, sweet barley, toasted oak spices
BenRiach Curiositas 10-Year-Old: (Peated) The BenRiach CURIOSITAS uses a heavily peated malted barley as the cereal varietal to produce a unique, fresh, peated expression. This is a rare peated single malt from the Heartland of Speyside. It has overtones of peat reek, combined with a background of fruity, floral heathery notes and an appealing presence of oak wood in the finish. Traditionalists believe that peated malts achieve optimum balance of peat-bittersweet and oak infusion after 10 years of maturation.
Tasting Notes: Peat reek, honey, fruit, mellow oak.

Interested in Irish Whisky too?

Or lucscious Irish Cream?