WHEN WERE SUPER TUSCAN WINES DISCOVERED?

It may seem paradoxical that Tuscany, a region once stifled by viticultural traditions dating back three millennia to the Etruscans, is today acclaimed by wine aficionados around the world for the revolutionary reds known as "Super Tuscans." That term came into use among English-speaking writers in the 1980s in reference to wines devoid of official appellations yet often surpassing the classic reds of Tuscany in prestige and price. Tuscan winemakers, happily abandoning age-old practices, began to put their best efforts and best grapes into reds styled for modern palates. They replaced their massive old casks with gleaming new barriques of French oak, while planting Cabernet and other trendy varieties alongside the ancestral Sangiovese in vineyards that emerged with unabashed grandeur as crus.
SUPER TUSCAN WINES TODAY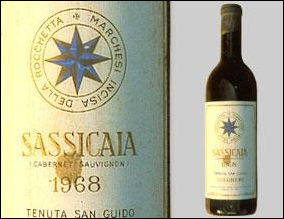 Sassicaia
The archetype Super Tuscan was Sassicaia, created by Marchese Mario Incisa della Rocchetta at his San Guido estate at Bolgheri near the Tyrrhenian coast. In 1944, Incisa planted Cabernet cuttings from Chateau Lafite in Bordeaux, where he also acquired used barrels for aging the wine. Incisa's nephew, Piero Antinori, talked his uncle into selling 3,000 bottles of the 1968 vintage through Marchesi Antinori distributors and Sassicaia became a legend, enhanced by winning a tasting of the world's Cabernets in London in 1978.

Antinori's enologist Giacomo Tachis became Sassicaia's winemaker, using his experience to innovate and perfect Super Tuscans at the Florentine house and, subsequently, at other estates. One such creation, Tignanello from the 1975 vintage, blended the prevalent Sangiovese of Chianti Classico with Cabernet Sauvignon, influencing a generation of winemakers.

The Sangiovese-Cabernet blend had been used since 1968 by Enzo Morganti at the San Felice estate for a wine called Vigorello. Records indicate that similar blends had been known long before in Tuscany. Probably as early as the 18th century at the town of Carmignano, where a grape called uva francesca was apparently a Cabernet.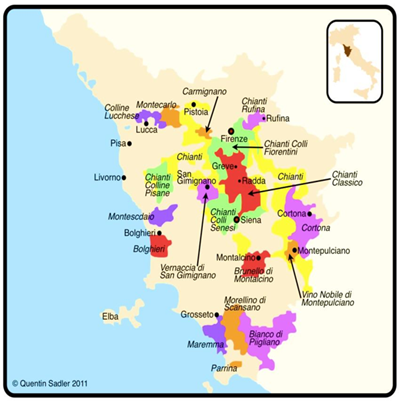 A Special DOC
The success of Sassicaia and other Super Tuscans based on Cabernet (or Merlot) set off a series of new plantings that for a while looked as if it might threaten the predominance of Sangiovese. At Bolgheri, the denomination was modified to include red wines based on the French varieties, while granting a special DOC to Sassicaia, the first ever for a wine from a single estate. Along the Tyrrhenian coast, new vineyards and new DOCs have underlined the promise of Cabernet and Merlot.

But many producers remained faithful to native varieties, primarily Sangiovese, which may have been first aged in barriques in 1976 by Sergio Manetti at Montevertine in a wine called Le Pergole Torte. Numerous other estates released purely native Super Tuscans in the 1980s, sometimes combining Canaiolo, Colorino, Ciliegiolo or Malvasia Nera in the blends.
Chianti Classico: The Spiritual Home of Super Tuscans
As producers turned to contemporary alternatives to a red wine whose image had been tarnished by decades of worldwide popularity in its colorful straw-based flask. Assisted by consulting enologists, who brought fresh ideas and techniques to the field, estate owners devised their own formulas for wines which were aged–or, as some prefer to put it, matured or seasoned–in small oak barrels from France, also known by Italians as barriques.
A Look Back: No Official Appellation Increased the Appeal of Super Tuscan Wines
Despite being categorized as lowly vini da tavola, the Super Tuscans were issued in elegant bottles with designer labels and imaginative names as the pride of their estates. To Italians the lack of official credentials clearly heightened their allure. In a region where individual bravura in the arts and crafts has always been more admired than collective accomplishments, the Super Tuscan paradox makes perfect sense. But to many foreign wine drinkers, the lack of clear and precise identities has created confusion, amazement and sometimes mistrust.
As skeptics pondered, how could a wine with no official appellation be worth more than a controlled and guaranteed Brunello di Montalcino or Chianti Classico Riserva? Controversy continues over vine varieties, production techniques and appellations, yet there's no denying that certain Super Tuscans have established singular reputations that exceed the value of any government guarantee. Experts have rated the best of them as truly superior to traditional reds of the region, characterized by deeper color, fuller body, more complete bouquet and richer, fresher fruit sensations with more depth and complexity of flavors, better balance and greater capacity for aging.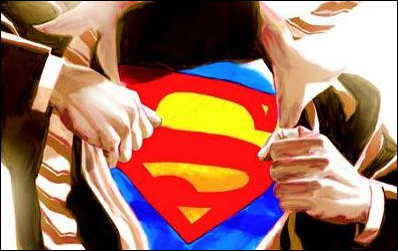 Broadening the Sprectrum of Vines
Producers have broadened the spectrum of foreign vines to include Syrah and Pinot Noir, sometimes as pure varietals though more often in creative blends. But the most significant trend is the revival of Sangiovese, which has gained momentum even among growers who were early advocates of Cabernet and Merlot.

Further improvement depends on the ongoing success of clonal selection, though it will take years more to sort out the clones of Sangiovese and other varieties that are best suited to the conditions of soil and climate that vary remarkably through the Tuscan hills. Experts estimate that over all Sangiovese is only at 60 to 80 percent of its ultimate quality potential, while varieties such as Cabernet and Merlot, culled long ago by the French, are much closer to the maximum wherever they are planted.
WHAT IS A SUPER TUSCAN WINE?
The success of Super Tuscans on world markets continues to mount. Recently, though, producers have come to realize that they'll need to comply with European Union regulations requiring that wines be officially classified, if not under new DOCs, at least under "typical" categories, such as IGT, the region-wide Toscana Indicazione Geografica Tipica, covering vino di tavola which does not fit into any of the upper categories. Yet even as the once fiercely independent Super Tuscans become classified in years to come, they'll be remembered for having revolutionized concepts of viticulture and enology while building Tuscany's reputation as one of the world's great wine regions. By now, the list of Super Tuscans could also be extended to cover some white wines of remarkable class. Perhaps the greatest contribution of the Super Tuscans will turn out to be the stimulus they have provided to producers of traditional wines of the region. The lessons learned have been applied to perfecting the styles of Chianti, Brunello, Vino Nobile, Carmignano and other wines, a growing number of which rate description as "super" too.
EXAMPLES OF TOP SUPER TUSCAN WINES

| | |
| --- | --- |
| Sassicaia | by Tenuta San Guido (1968 - cabernet sauvignon & cabernet franc) |
| Vigorello | by San Felice (1968 – sangiovese & cabernet sauvignon) |
| Tignanello | by Antinori (1971 - sangiovese & cabernet sauvignon) |
| Le Pergole Torte | by Montevertine (1977 - sangiovese) |
| Solaia | by Antinori (1978 - cabernet sauvignon, - franc & sangiovese) |
| I Sodi di San Niccolò | by Castellare di Castellina (1979 - sangiovese & malvasia nera) |
| Cepparello | by Isole e Olena (1980 - sangiovese) |
| Flaccianello | by Fontodi (1981 - sangiovese) |
| Grattamacco | by Grattamacco (1982 - cabernet sauvignon, merlot & sangiovese) |
| Cabreo | by Cabreo il Borgo (1982 - sangiovese & cabernet sauvignon) |
| Ornellaia | by Tenuta dell'Ornellaia (1984 - cabernet sauvignon, merlot & cabernet franc) |
| Masseto | by Tenuta dell'Ornellaia (1985 - merlot) |
| Summus | by Banfi (1985 - cab sauv, sangiovese & syrah) |
| Vigna L'Apparita | by Castello di Ama (1985 - merlot) |
| Il Pareto | by Tenuta di Nozzole (1985 - cabernet sauvignon) |
| Maestro Raro | by Felsina (1987 - cabernet sauvignon) |
| Guado al Tasso | by Antinori (1990 - cabernet sauvignon, merlot & syrah) |
| Lamaione | by Frescobaldi (1991 - merlot) |
| Luce | by Frescobaldi (1993 - sangiovese & merlot) |
| Messori | by Le Macchiole (1994 - merlot) |
| Redigaffi | by Tua Rita (1994 - merlot) |
| Galatrona | by Petrolo (1994 - merlot) |
| Solengo | by Argiano (1995 - merlot, cab sauv & syrah) |
| Piastraia | by Michele Satta (1995 - cabernet sauvignon, merlot, sangiovese, syrah) |
| Tenuta di Trinoro | by Tenuta di Trinoro (1997 - cabernet franc, merlot, cabernet sauvignon & merlot) |
| Oreno | by Tenuta Sette Ponti (1999 - sangiovese, merlot, cab sauv) |
| Testamatta | by Bibi Graetz (2000 - sangiovese, colorino, canaiolo, moscato nero & malvasia nera) |
| Magari | by Angelo Gaja (2000 - merlot, cabernet sauvignon & cab franc) |