STEPHANIE MACLEOD MAKES WHISKY HISTORY WITH FIFTH CONSECUTIVE MASTER BLENDER OF THE YEAR AWARD
For an unprecedented fifth year in a row, Stephanie Macleod, Director of Blending, Scotch Whisky for Bacardi, has been awarded the prestigious title of Master Blender of the Year by the International Whisky Competition (IWC) 2023.
With her passion for Scotch and pursuit of innovation by pushing flavor boundaries and maturation possibilities, Stephanie made history in 2019 as the first woman to win the IWC's Master Blender of the Year award. She has continued this winning streak ever since; a feat which recognizes her world-leading expertise in the art of whisky-making.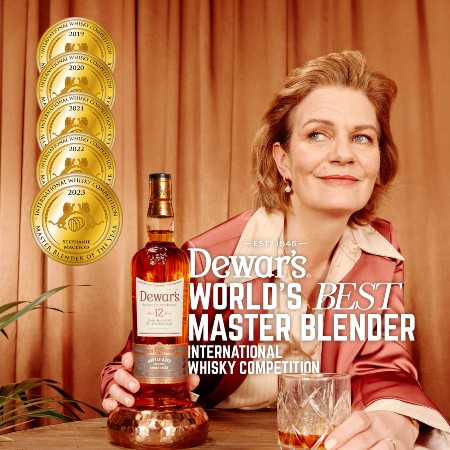 What drives me and my team every day is to create exciting, interesting whiskies, that pioneer and provoke anticipation about what we might create next." - Stephanie Macleod
She assumed the role of Master Blender in 2006, and has continued the Dewar's blending legacy by maintaining the award winning taste of Dewar's. Stephanie was recently promoted to Director of Blending, Scotch Whisky to drive the premiumization of the entire Bacardi Scotch whisky portfolio including Single Malts – ABERFELDY®, AULTMORE®, CRAIGELLACHIE®, ROYAL BRACKLA® and THE DEVERON® – she leads a team of Blenders and Whisky Stocks Analysts who learn from her wealth of knowledge and expertise every day gaining recognition for their consistent approach to crafting quality, exceptional tasting whiskies.

#scotchtasting #scotchwhiskytasting #whiskytasting