Craft Rum Education and Reviews
While summer hasn't officially started, the weather's warming up and sipping drinks poolside is definitely top of mind. The Origin team's Rum Review serves as a great reminder to savor craft rum and rhum's unique flavors whether sipped neat, on the rocks or in a festive rum cocktail!
RUM VS RHUM
"Rum," formally know as Demerara Rum, is produced from fermenting molasses, resulting in a sweeter, rounder, and usually darker rum. On the other hand, Rhum Agricole (affectionately know as "Rhum," the French term for this spirit since it's generally distilled on the French-colonized islands of the Caribbean) is made directly from the sugarcane juice yielding a much more vegetal, savory, and lighter final product. Other styles include American, English and Spanish. Learn more from the rum wheel infographic below.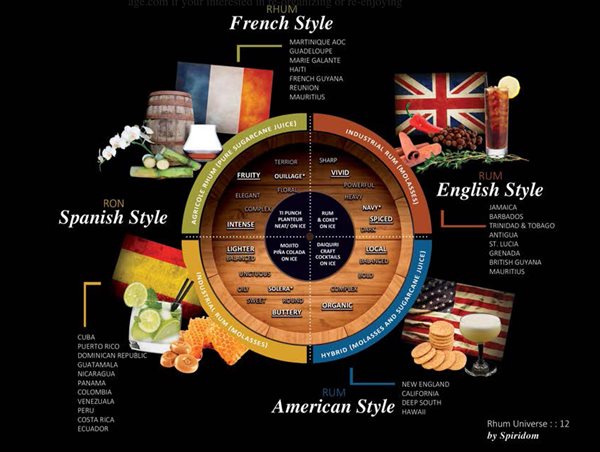 CARRIBBEAN RUM ENCOMPASSES ENGLISH STYLE RUM, SPANISH STYLE RON, AND FRENCH STYLE RHUM DISTILLIING METHODS
ANGOSTURA RUM
When you think Angostura one would usually think bitters, but Angostura is a major producer of Caribbean Rums in Trinidad and Tobago since 1824. Angostura's distillery is based in Trinidad and is a large producer of quality rums. The climate in Trinidad is ideal for Rum production because it has the right balance of heat, humidity and temperature for rum to age. Trinidad also has abundant natural springs that are an intricate part of the process since as much as 50% of a bottle of rum is water and that water is an important part of the spirts character.

There are multiple varieties of Angostura Rum: Angostura 5-year, 7-year, 1919 and 1824 Rums as well as White Oak and Fernandes Black versions. All of their rums are blends of lighter and heavier rums that are aged in ex-bourbon Barrels.

Angostura Reserva 3-year rum has soft, sweet vanilla on the noes with banana, toasted marshmallow, molasses, cocoa and vanilla on the palate.
Angostura 5-year rum has a bit of sweetness on the nose with caramel, vanilla and spice. The palate has notes of dried banana, caramel, vanilla toffee and spicy oak.

Angostura 7-year rum's nose shows hints of vanilla, caramel chocolate and coffee while the palate offers notes of molasses spicy oak, vanilla, coffee and chocolate.

Angostura 1919 is a blend of 5 – 10 year-old rums and has a sweet nose with strong notes of vanilla, caramel and toffee. The palate comes through with a strong presence of vanilla up front and hints of white chocolate and toffee.
Angostura 1824 is a 12-year rum that tends to be more subtle and softer than the 1919 version. It has notes of caramel, toffee and toasted marshmallow as well as a hint of oak.

Angostura White Oak rum has citrus and lime notes on the nose and the palate has spicy peach notes.

Angostura Fernandes Black Label rum has a bit of caramel and burnt sugar on the nose while the palate has notes of Oak and undertones of dried fruit.
BERRY BROS & RUDD RUM
All too often people have abused and maligned rum based on their collegiate years clouded by artificially sweetened bathtub rums poured into soda or frozen drinks with brightly colored crazy straws. Luckily, rum can be just as nuanced and exquisite as any bourbon, whiskey, or mezcal and, in certain circles, is experiencing something of a renaissance. Berry Brothers have been there all along, quietly honing their craft in a former sugar factory dating back to the 1600s.

Berry Brothers' St. Lucia 11yr Rum:
Similar to other spirits, the origin of the ingredients plays a vital role to the finished product in the bottle. Climate, soil content, and production method all play a part in bringing some of the finest rum to market. Expect a continued attention to detail in Berry Brothers' St. Lucia expression, with sourced molasses from the flood plains of Guyana. Don't know where that is? Not to worry, the extraordinary aromas and flavors of mint, eucalyptus and subtle notes of lemon and lime will chart a course for you. Not for the faint of heart, as St. Lucian rum can also offer medicinal or herbal flavors and even sweet apple.

AMERICAN RUM NEW ENGLAND STYLE RUM
Thomas Tew Single Barrel Rum:
Newport Craft Spirits set out to create a rum without equal in the New England style. Using the finest blackstrap molasses it's distilled with a laser-focus on pulling from the finest part of the distillate and then poured into fresh bourbon barrels where it rests until time and the seaside air of Newport, RI do their work. The result is a luxurious single barrel rum with hints of vanilla, chocolate, brown sugar tempered and complimented by the bourbon soaked wood of the barrel. A finer example of a single barrel sipping rum would be near impossible to find.
Bully Boy White Rum:
While there are plenty of lighter bodied rums to enjoy there was a gap where a robust, full-bodied white rum should have been. Enter this white rum. By allowing the molasses to ferment far longer than almost any other rum out there, they educe bold butterscotch and vanilla aromas. By carefully extracting only the best parts of the distillate, the end result is balanced white rum that proudly displays hints of pineapple, burnt sugar, and raisin.
Bully Boy Boston Rum:
Bully Boy set out to reinvigorate and recapture the history of rum in Boston. In doing this, they elevated rum as well. By taking a mixture of black strap molasses and using more of the heads of the distillate, they've created a rum that exhibits beautiful notes of banana and butterscotch. By aging the rum in whiskey barrels, they coax out the additional flavors of oak, vanilla, and chocolate. This is a rum that truly represents not only the spirit of rum but also the pride in its history in Boston.
FRENCH STYLE RUM BY RHUM CLEMENT
Clement Cane Bleue: this white agricole is bursting with petrol on the nose. The nose is not too far off the taste, the palate is full of fruit, vegetal, and petrol notes. This intense rhum is best balanced out in a cocktail.

Clement Select Barrel: This rhum is aged for three years in French oak. The nose on this is rich and earthy before throttling into vegetal and mushroom notes. A seriously fun and funky rhum that finishes with a bright, crisp fruitiness. This guy works great in cocktails, but also neat or on the rocks.

Clement X.O.: This 6-year aged rhum is certainly showing all that the barrel can bring to the table. The nose is full of baking spices and tobacco. A slightly sweeter and tropical note lingers on the nose and translates fully to the palate. Brown sugar and toffee round out the finish for this luxurious rhum. Drink neat and repeat!
ENGLISH STYLE RUM BY HARBOUR RUM
A group of Portuguese rum shop owners got together and formed Antigua Distillery. In 1993, the English Harbour brand was born, with its market launch coming five years later in 2001. The molasses used in the rum is fermented in open-top fermenters that use a mix of commercial and wild yeast. The wild yeast adds a unique character to the final product adding a light briny note that is influenced by the location of the seaside distillery.

English Harbour 5-year rum earned Double Gold at the 2005 San Francisco Competition. The nose has notes of oak, spice and fruit. The palate is fruity and a tropical with notes of smoke and winter spice to balance it out. It finishes with a spicy sweetness.

English Harbour 10-year is a blend of rums between 10 and 25 years and matured in bourbon barrels. The 10-year has a thick, full nose with pleasant hint of molasses and a touch of smokiness and dried fruit. The palate has a spiced character with tropical fruits, toffee and rich coffee notes as well as a touch of floral character. The finish is a touch of oaked sweetness.
SPANISH STYLE RUM
Casa Magdalena Ron Blanco: New to the Origin Beverage portfolio is Casa Magdalena Guatemalan rum. Sitting neatly between a conventional molasses-based silver rum, and its funkier, cane juice derived relative rhum agricole, Magdalena harnesses the best of both worlds with its smooth yet complex flavor.

Brought to Origin Beverage by the masters at House Spirits Distilling, it is perfect over ice and a squeeze of lime or in a classic Daiquiri, this rum boasts a grassy aroma with earthy mineral notes and a touch of creamy caramel and sugar.

Zafra Rum: Distilled in Panama, Zafra, which means "harvest" in Spanish, is a 21-year old rum reserve by Cuban master blender Francisco "Don Pancho" Fernandez. Made from molasses and aged in ex-Bourbon barrels, Zafra is super rich and fruity. Each sip gives way to more citrus and toffee notes leaving you with a lingering sherry-like finish. Put this in a snifter and enjoy!
DID YOU KNOW THAT JULY 10 IS #NATIONALPIÑACOLADADAY?
DID YOU KNOW THAT #NATIONALMOJITODAY IS JULY 11?
DID YOU KNOW THAT AUGUST IS #NATIONALRUMMONTH?
Learn more about barrel aging and what else is in your rum cocktail...