An Op Ed featuring Superstars of Scotch and Football
As I sit down tonight to watch a rematch of the 2014 Super Bowl with a bottle of Laphroaig's newest expression, Lore, the similarities between the storied histories of the New England Patriots and Laphroaig become evident.

Master Distiller John Campbell created Laphroaig's flagship label, Lore, as a tribute to the brand's 200-year legacy of creating some of the world's most unique, distinctive and iconic Scotches available. Campbell's usage of a variety of different styles of barrels to age the whiskey, from first-fill bourbon to quarter casks to Oloroso hogsheads, each to impart its own flavors on the final product, reminds me of how Belichick creates his teams, picking and choosing the unique abilities of players that other teams overlook to create the single best roster in the country.

Brady will likely go down in history as the best quarterback of all time, and Lore is already being championed as the richest, most complex offering that Laphroaig has ever released. Brady's poise, knowledge and ability are as easily recognizable as the notes of peat, smoke and minerals on the nose are to this Islay Scotch whiskey.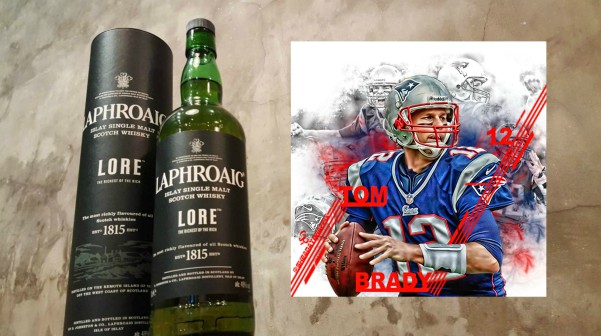 While the rest of the country may jealously view Belichick and the Patriots as abrasive, blunt and harsh, the novice whiskey drinker may be averse to the peaty, smoky, spicy notes of Laphroaig Lore. But its long, mellow and sweet finish can only be likened to the immense satisfaction that one gets when watching the Patriots deliver yet another decisive victory.
Let's raise a glass and toast to two greats of Scotch and Football!