Life as a female leader and family woman in the hospitality and beverage industry.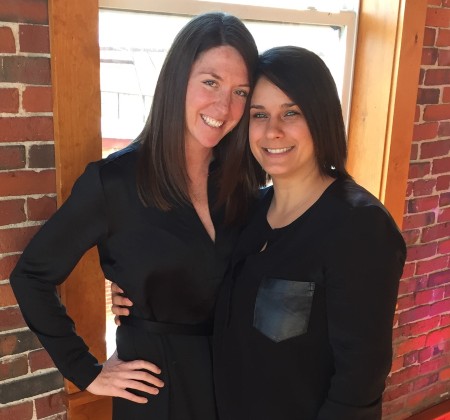 CAITLIN MCGARRAHAN
ORIGIN BEVERAGE DIRECTOR
We had a blast interviewing Caitlin (at right in the photo with her wife Jodie Battles), Director of Horizon's Craft Beverage division and mom to an inquisitive toddler. Caitlin shared with us what it's like for she and Jodie to be female leaders and family women in the Food & Beverage Industry.
HOW DID YOU MEET?
We worked at Toro Restaurant together- Jodie was the GM and I was a server- scandalous!
HOW LONG HAVE YOU BEEN TOGETHER?
We've been married 7 years this October — dating since 2014.
HOW LONG HAVE YOU BEEN AT THE COMPANIES YOU WORK FOR?
Jodie has been with JK Food Group for 10 years in August; I have been with Horizon Beverage Company for 7 years in September.
WHAT ARE YOUR OFFICIAL STARTING AND CURRENT POSITIONS?
I started as an Origin Beverage Sales Rep for the Downtown Boston Route and was recently promoted to Director of the division; Jodie started as General Manager of Toro restaurant and is now Director of Beverage for JK Food Group (that owns Toro and several other restaurants).
WHAT MADE YOU CHOOSE THIS INDUSTRY?
Food and Bev is something that we are both passionate about and fell in love with a long time ago. Jodie grew up working in restaurants on the Cape and after working in Finance came back to it. Same with me, I worked in restaurants in California and did a handful of sales jobs before coming back to the restaurant industry.
TELL US MORE ABOUT YOUR ROLES AS PARENTS AND WOMEN IN LEADERSHIP. HOW DO YOU TRY TO BALANCE BOTH?
The balancing act is real! It takes a village and we are lucky to have help so we can both prioritize work and ourselves and focus on the baby!
FAVORITE THING TO DO TOGETHER?
Travel, check out new restaurants, cook together.
WHAT IS THE BEST THING ABOUT PARENTHOOD SO FAR?
We are only a few years into this journey, but watching our daughter discover/develop new things is pretty amazing!